Kober claims bronze in Dual Moguls on final day of contest
Idre Fjäll, Sweden, December 13, 2020 – Jordan Kober, 24, from Penticton, B.C. claims bronze in dual moguls, earning his first-ever World Cup podium finish. Kober shared the bronze medal with Bradley Wilson (USA) after the final phase of the men's competition was canceled due to low visibility.
Kober grew up skiing at Apex Mountain Resort, which is known for its World Cup mogul course. Apex Mountain has a long history of mogul skiing success as it is also home to World Champion Kristi Richards and 2018 Olympian Andi Naude.
Kober spent the beginning of his competitive career on the B.C. Mogul Team before being named onto the National Team in 2014. Kober then made his first two FIS World Cup appearances the following season by competing twice on home soil in Val Saint-Côme and Calgary.
Jordan Kober was able to ski fast and consistently during yesterday's dual preliminary rounds which led him to finals.
With the conditions being less than ideal during today's final, the skiers had to adapt. "Jordan has always been a very fast skier", stated the mogul team head coach Michel Hamelin. "We ended up using the approach of competing easier jumps on the top air to increase his run speed, and it ended up working in his favor." This strategy carried Kober into small finals. With heavy fog rolling in, the remainder of the event was canceled, and an agreement was reached to award gold to the finals competitors, and bronze to the small finals competitors.
Josh Kober, Jordan's brother and current head coach of the B.C. Mogul Team was up all night watching and supporting his former teammate. "It's truly incredible to see Jordan stand on his first World Cup podium. This result is a long time coming for him and is the product of years of determination and perseverance", stated Josh who has watched his little brother grow as an athlete throughout the years. "It's so amazing to see him get rewarded for the massive amounts of effort he's put in. Seeing the huge outpouring of support going his way right now is absolutely amazing and he's made so many people very proud! I know it means the world to him to put one down in honor of his friend and teammate Brayden Kuroda."
The gold medal was shared between Matt Graham (AUS) and Ludvig Fjallstrom (SWE) who both won their semi-final matchup.
Justine Dufour-Lapointe, Berkley Brown and Brenden Kelly all qualified for finals and placed 6th,  15th and 12th respectively.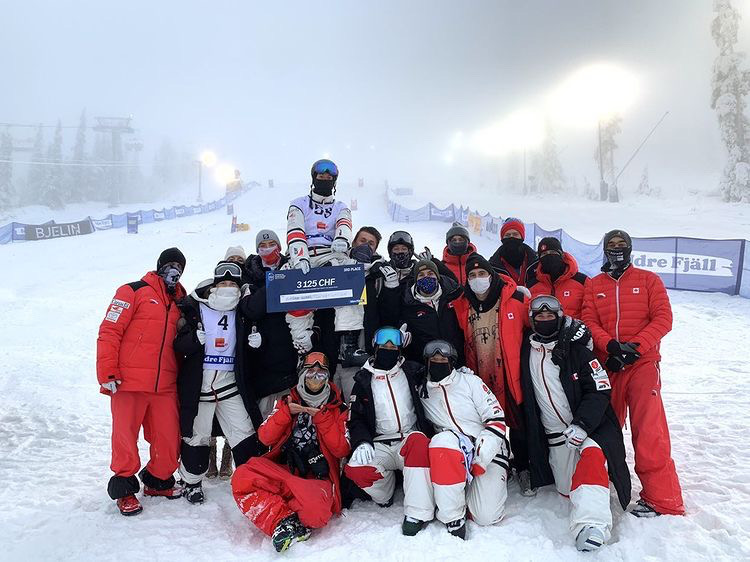 OTHER CANADIAN ATHLETES' PLACINGS
Men: Brenden Kelly (12), Kerrian Chunland (17), Gabriel Dufresne (26), Elliot Vaillancourt (43)
Women: Justine Dufour-Lapointe (6), Berkley Brown (15), Chloe Dufour-Lapointe (18), Valerie Gilbert (21), Maia Schwinghammer (23)